The more tine that I live in Austin, the more I am amazed,  and I don't mean in a good way.  We have a wonderful and beautiful city.  But, we also have a number of problems that have not been resolved by Austin leadership.  This is where I complain about the traffic or the number of people that are moving to Austin or about the sky rocketing cost of housing in the city limits of Austin.  No, I am not going to complain about those things.   But I am going to talk about football or more to the fact, Longhorn football.  Since I moved here, (1995) I have adopted the Longhorns as my home team.  And things were good for a little bit, UT won a championship in 2005 and the city was so happy, albeit there were a few fans that were not satisfied with the margin of victory…I know…those are great fans.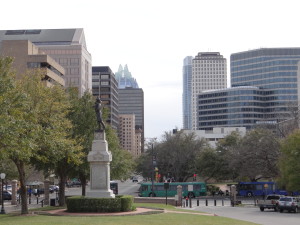 So, by now you have probably heard about Charles Strong and the situation that he and the UT sports administration has put him in.  First off, Coach Strong got himself into this mess by not winning 10 + games this year.  He knew what kind of school Texas was and almost everyone told him how impatient the fan base is.  Texas is no Louisville.  At Louisville, he led the Cardinals to two 10 + win seasons and sent a number of kids to the NFL.  And that was good enough for Texas.  But first Texas had to bungle the firing of Mack Brown (after an 8 win season).  And then Texas was told no by at least 3 other coaches before they settled on Coach Strong.
This is from Wikipedia so take it with a grain of salt.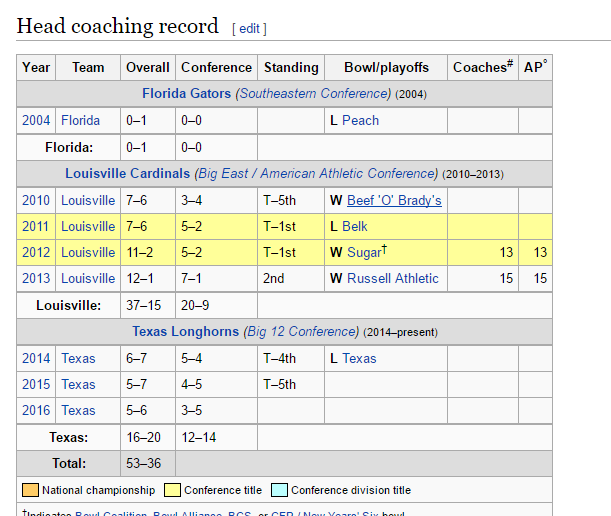 You see 8 wins is not good enought for the alumni, no, the alumni want to win the championship more that once every 15 years.  They want to be like Alabama.  And who can blame them, millions of dollars to the UT athletic department. gives you a lot of clout.  Coach Strong came in and cleaned out the football team of  malcontents and entitled players and recruited high character football players.  He turned around the atmosphere at UT but for some reason could not win more than 6 games in each of his two years.  So let the grumbling begin.  Maybe it was game management, maybe it was play calling, maybe it was giving too much loyalty to "his" coaches….whatever the reason, they could not win enough games.
And then UT lost to Kansas, a team that had only 1 conference win in two years.  Kansas, a 1-9 team that prefers a round ball to an oblong ball and that had one win over Rhode Island this year.  I didn't even know they had a university.  This loss rocked UT and caused a series of events that is on par for UT Athletic department.  It was reported (from a source inside the athletic department) that Coach Strong was to be fired when he got back to Austin.  Twitter and Facebook went crazy, people wondered if the coach from Houston was to be the next victim er, coach.  The public waited and waited for a statement from the UT athletic department, but nothing was said.  Finally after almost 24 hours, a denial was issued by the AD Perrin.  But it was too late.  Coach Strong was turned into the victim and UT was the villain.  Can you say public relations disaster.  Can you say mishandled? It appears as though Coach Strong got a raw deal and in some ways he did.  If UT wants to fire him, then fire him.  Don't put the man through all this!  But in terms of wins and losses he is the coach and he is responsible for what is out on the field.  They are a 6 win team.
If on Saturday, Coach Strong is fired who will be his replacement?  This is also from Wikipedia.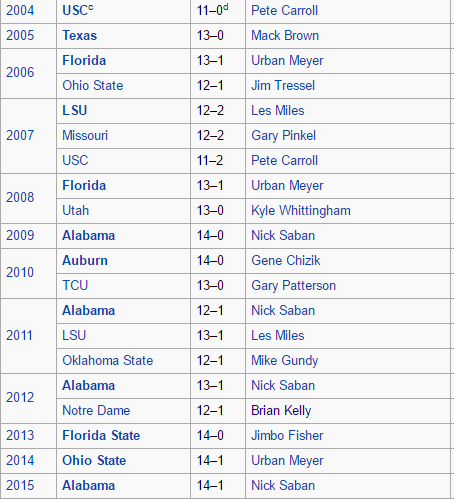 I do not see the Coach Herman's name on the list above.  I see Saban, Meyer, Miles and Carroll.  If I am the AD at UT, I would make a phone call to every coach who won more than one college championship or who went to a Super Bowl, or both!  And I would probably call Shaw at Stanford, Harbaugh from the Ravens and maybe even John Gruden.  Why not?  UT has world class facilities, and a number of young 5 star recruits.  What does UT stand to lose?
Ok, I have done my griping and I am tired of the whole situation.  UT plays TCU on Friday.  I wonder if those 5 star recruits are going to play like 5 star recruits.  I wonder if Texas wins (and no matter how they win), will they carry Coach Strong off on their shoulders, like he just won the FBS Championship or the Super Bowl?  Probably, if they win.  And when the cameras focus on him I wonder what he will say, "Coach Strong you just beat TCU, what are you going to do next? "
The opinions in this blog represent my opinions.  The information should be taken as is and without prejudice.  I am not a journalist but a person with a blog.  This info was taking from news articles, radio broadcasts and second person hearsay and should not be taken as a valid news source.  Use this at your own risk.